come join us
 

RYPEN holds weekend camps in leadership for Grade 10 students. It is an Australian designed project for young people aged 14 to 17.
Camps are held in March in the South and May in the North of Tasmania.
RYPEN sets out to broaden horizons and lift aspirations in a supervised residential weekend seminar.  It's aim is to communicate to young people a series of ideas, problems and social experiences which will assist them in forming their own values and moral standards and broaden their horizons culturally, socially and academically.
Rotary Youth Exchange and Windeward Bound Youth Challenge
"An exchange is when a stranger becomes family, foreigners become friends, a second language becomes like your first and a year suddenly becomes a day."
community partnerships
Partnering with Kingborough Helping Hands
We enjoy working with UTAS and the Science Experience and Engineering Challenges
Rotary clubs promote the ConocoPhillips Science Experience, which is a fun 3 or 4 days of science activities for any interested Year 9 and 10 students in 2019 program year. We sponsor  students to attend, participate actively in organising program's and in providing social activities.  Past and Future Programs
Key Dates 2020
Hobart Tues 19th to Fri 22nd May
Launceston Mon 25th to Tues 26th May
Burnie Thurs 28th to Fri 29th May
State Finals: Burnie Mon 1st June
The Science and Engineering Tasmanian State Final will be held on Monday 1 June in Burnie.
School registrations for 2020 are now open. The link below is the only method of registering.
Our Club Members Join in with other Clubs across Tasmania in the Rotary Youth Driver Awareness Program each September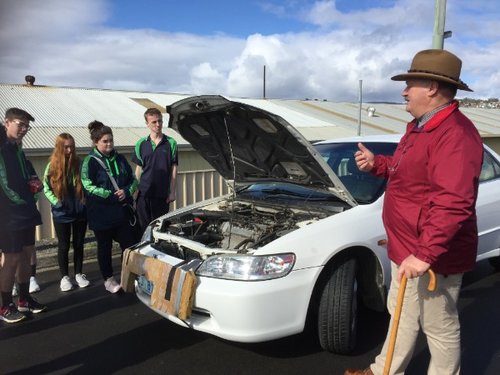 RYDA is a community road safety initiative delivering practical road safety information targeting attitude and awareness of young drivers and passengers. The program is facilitated in partnership with Rotary, presented by professionals and supported by corporate sponsors. The Program about road safety is directed towards our young people as as they approach the period in their life when they start driving a car and ride as a passenger in a car driven by one of their peers. In Tasmania it is presented to students in grade 10.
The program focuses on attitude and awareness with the aim of making the students better people on the road. Presenters include Road Safety experts, driving instructors, Police , recovering survivors of road crashes and drug and alcohol educators.